On March 6th, 2017, Seymour Iowa was struck by a tornado producing winds estimated between 115-125mph. In the path of the devastation was the home of Richard and Amber Trout, and their three daughters. The Trouts were left with little more than a few personal items, and a sense of gratefulness to have survived.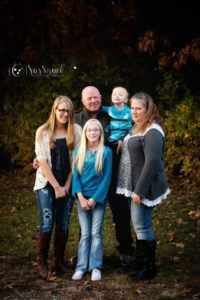 ONE FAMILY ONE PURPOSE is committed to raising the money needed for rebuilding the Trout home, and later this November, will be mobilizing hundreds of volunteers to South-Central Iowa.
If you'd like to be a part of this act of service, you can get involved in many ways.
1.) You can donate money to be used for the purchase of building materials. Click HERE to donate safe and securely online. You can also make checks made payable to: ONE FAMILY ONE PURPOSE, mailed to 2755 E. County Rd 1800, Carthage IL. 62321. All donations are tax deductible, and used for building materials.
2.) You can be a member of our nation-wide construction team that will meet in Allerton, Iowa between the dates of Monday, November 26th, 2018 and Saturday, December 8th, 2018. The two-week home build from start to finish is a remarkable feat to witness. You can show up for a day, weekend, a week, or the entire two weeks–whatever fits into your schedule. Food and lodging will be available for volunteers, so come with a willing heart, and a joyful spirit!
3.) Most importantly, you can PRAY! Pray for the safety of our volunteers, and for, not only the family, but the entire community, who continues to recover from the devastation of March 6th, 2017. Last, but certainly not least, pray for our greatest goal to be accomplished–to bring honor and glory to our Savior, Jesus Christ.
Volunteer info:
Job-site: 411 West Oak, Allerton Iowa – The home will be rebuilt in Allerton, Iowa, a few miles West of where their home was destroyed in Seymour.
Volunteer lodging address: Camp Appanoose, 13380 430th St. Plano, Iowa (35 minute drive to/from job-site)
Breakfast, lunch, and dinner are served for volunteers!
Job-site volunteers are welcome to bring power tools (drills, saws, etc) but very little is required or expected. Just pack your tool-belt, hammer, and tape-measurer and we'll put you to work!
ALL volunteers must sign in prior to participating in the build. See Ryan when you arrive on-site to insure that all documentation is complete. He'll also set you up with some O.F.O.P. goodies!
In an effort to plan for food, please keep us informed of your intent to arrive and depart. You can call (309)219-OFOP (6367), or send us a message by clicking HERE.